Description:
At Tucantex you will find high quality personalized bathrobes for a gift or event and of different qualities. Bathrobes for adults can be embroidered with initials, a logo or anagram, choosing the size and/or color. The personalized bathrobe is a good option to personalize with your brand and thus offer greater presence to your business.
We have a wide variety of personalized bathrobes and sustainable fabrics, called ecofriendly for their fast washing and drying, thus saving water and energy.
They are very fluffy and light with a tuxedo collar or kimono model.
Characteristics:
The personalized bathrobes are models that are very fluffy and light with a tuxedo collar or kimono model. They have two pockets on the sides and a belt.
Colors:
Available colors: To choose
Personalization details:
Embroidery
Measurements:S-M-L-XL-XXL
Quality: 180 gr./m2- 300 gr./m2 – 400 gr./m2 -500 gr./m2
Composition: 100% Microfibers / 100% Cotton – 85% Polyester / 15% Polyamide – 100% Cotton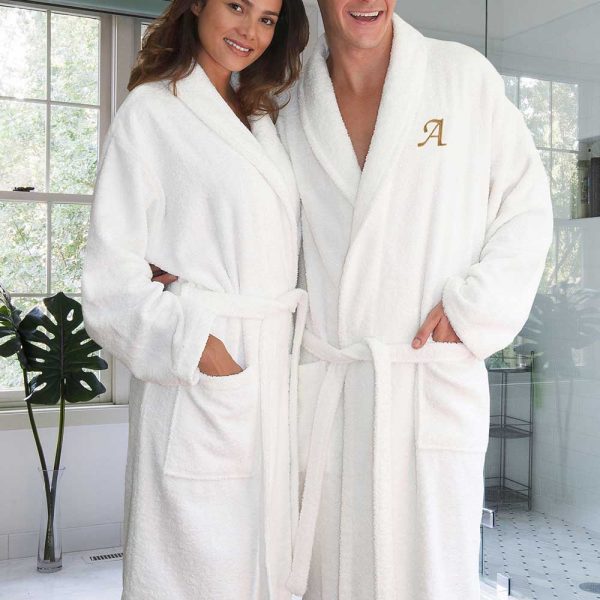 PERSONALIZED QUALITY BATHROBE TO CUSTOMIZE WITH THE COMPANY LOGO
Tucantex personalized bathrobes are also a promotional item, which you can use as a gift in the marketing and advertising campaigns of your business.
MORE CUSTOMIZABLE TEXITLES TUCANTEX
Why choose TUCANTEX personalized bathrobes?
Frequently asked questions about TUCANTEX custom textiles
How are Tucantex personalized bathrobes made?
Tucantex bathrobes are manufactured The manufacture of the towel involves a meticulous and industrialized process that goes from the collection and selection of cotton to packaging for subsequent distribution. After the cotton harvest.
What techniques are used to personalize bathrobes?
At Tucantex you can find a variety of systems to customize bathrobes with your company logo.
Embroidery: embroidery; by means of textile threads or embroidery threads, on a flexible surface.
Do they require special maintenance or can they be washed in a washing machine?
It is recommended to wash at a maximum temperature of 30º-40º, dry in the shortest program and, above all, without fabric softener.
Is there a minimum order for personalized Tucantex bathrobes?
The custom budget is from 100 units
Can I combine several designs in the order?
Yes, it is possible to combine several designs in the order. Depending on the personalized item, we confirm that quantities are minimum to create the design