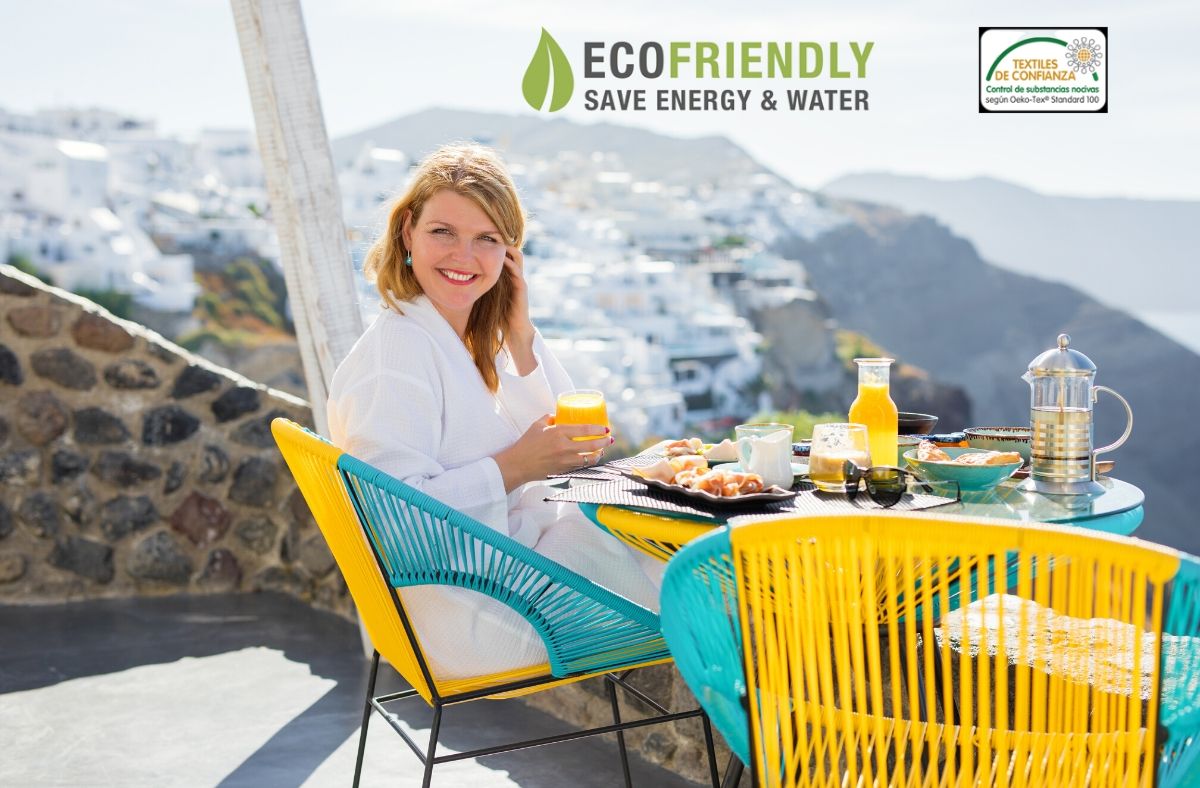 Eco-friendly bathrobes, quality and cost effective
A bathrobe is one of the most comfortable and versatile items of clothing in any wardrobe, regardless of whether it's used for private or business purposes. Any business related to health or wellness services cannot fail to pay special attention to the quality of the bathrobes it makes available to its users.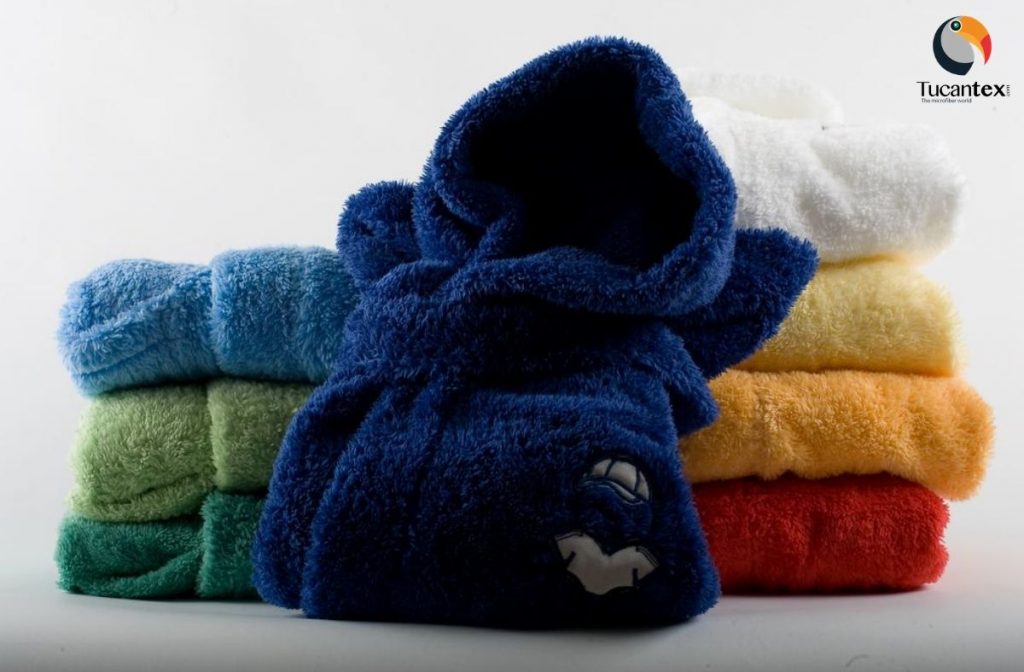 Tucantex has been innovating for years both in the design of its bathrobes and in the materials and fabrics used in the manufacturing of the products. The result is a catalogue of products in which ecofriendly fabrics are a priority, a guarantee of comfort for users, and which demonstrates a high commitment to environmental sustainability.
In addition to all the above, there are significant cost savings one can make by using the most advanced manufacturing techniques. The quality of the bathrobes remains intact or even increases but costs are significantly reduced. This is without a doubt a winning combination.
Technology at the heart of sustainability and comfort
Cotton is the material par excellence with which to obtain the best bathrobes for any type of use. These fabrics are extremely light yet strong and provide warmth to users when they need it most.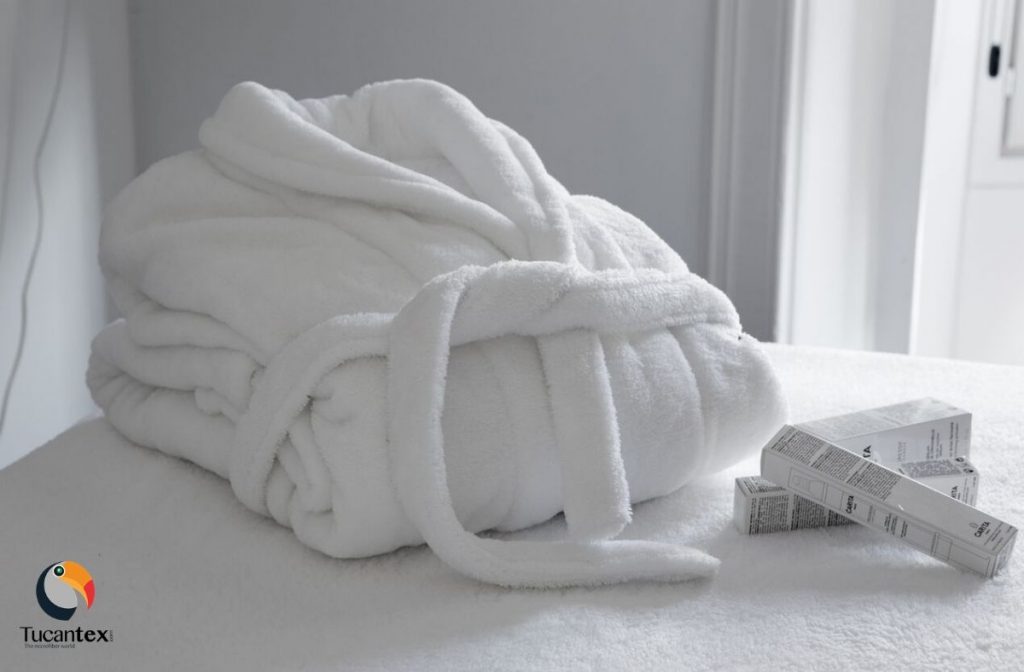 The cotton products from Tucantex are characterised by their notable durability and their hypoallergenic properties. Thus, even the most delicate or sensitive skins can come into direct contact with the bathrobes without fear of suffering irritations or allergic reactions. The absorption capacity of these garments is also outstanding, so it is not unusual for them to be handed out to users after a swim.
Cotton bathrobes offer multiple possibilities for personalisation. Any business can take advantage of this to print its name or logo on the surface of this popular garment. This way, customers will feel part of a very exclusive experience.
Robes with a classic cut and modern comfort
Spongy microfibre is another popular type of fabric that is most in demand by wellness centres, spas and other related services. Respecting the most traditional designs, the bathrobes made with this fabric offer high levels of softness and adapt completely to the body's shape.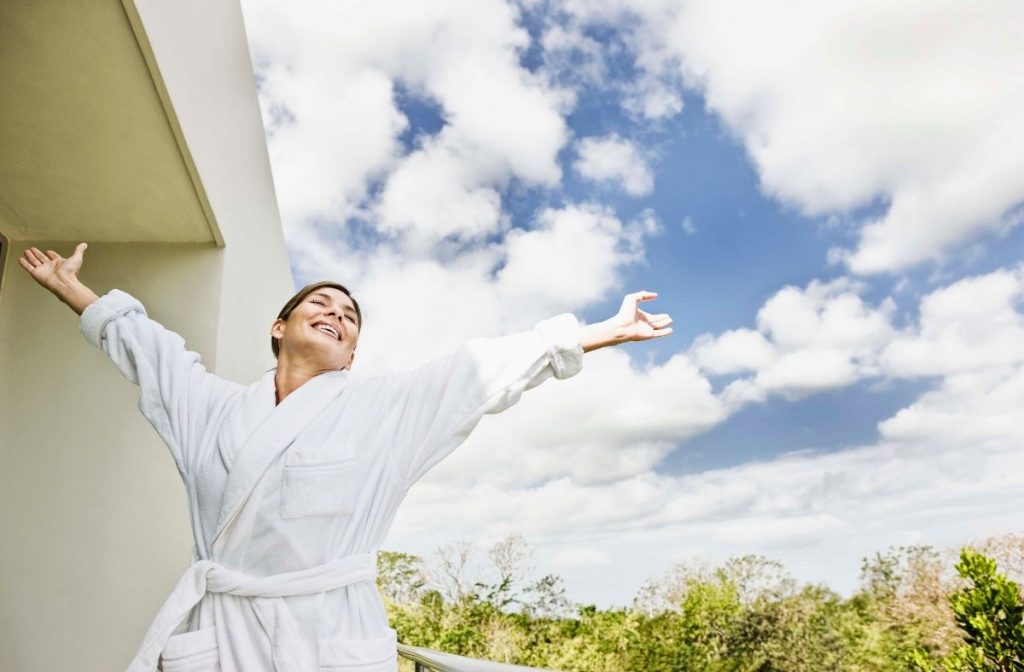 One of the main advantages of spongy microfibre is that it doesn't require much water and soap during the washing process, since any stain or dirt comes off much more easily than with other types of fabric. As if this were not enough, these bathrobes offer a long life span due to their anti-pilling properties, which prevent the formation of unpleasant little fluff balls and also avoid the garment from shrinking or deforming over time.
The softest solutions
The compact microfibre is one of the most comfortable fabrics because of its lightness and softness. Bathrobes made from this innovative material can easily be stored as they take up very little space. At the same time, its shape does not deform despite frequent washing, while its anti-wrinkle properties ensure it always looks in perfect condition for the customers to enjoy.
Other appealing solutions for wellness and spa businesses include the polyester products. Tucantex has a "kimono" style model that combines the versatility of polyester with the durability and insulating properties of polyamide (it will resist thermal changes and will hardly crease). This garment can be washed and dried in a very short time and feels very pleasant to the touch.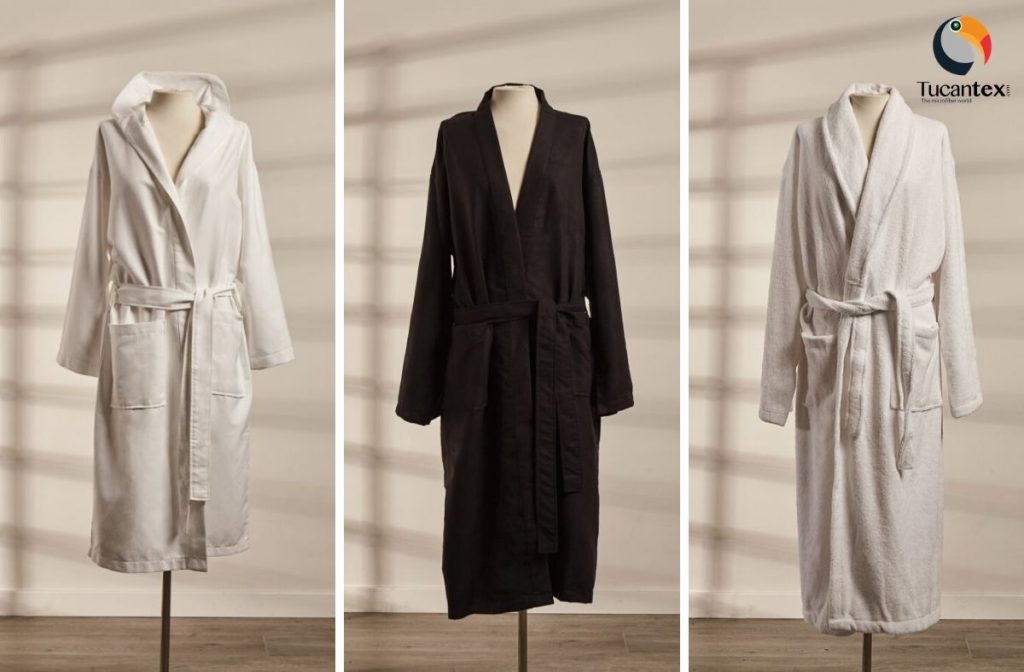 This ecofriendly bathrobe is one of the most stylish and elegant designs and adds an interesting touch of distinction to any business. For the users, it is evident that they care about the smallest details.
Nature as inspiration
Cotton is again the star material but this time for a unique design that connects the customers with nature. This is the "honeycomb" style bathrobe, with a surface that incorporates the geometric patterns that we all associate with honeycombs. What specific properties or advantages does this design provide? To put it simply, this bathrobe offers a great capacity of absorption that does not compromise on quality, no matter how lightweight the garment is.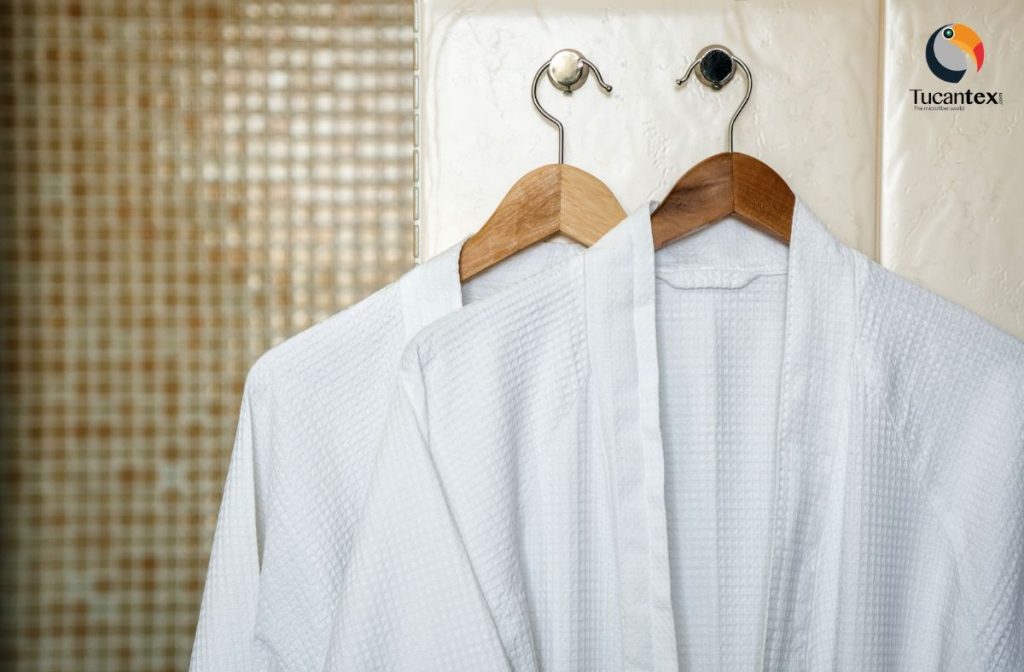 The ecofriendly label guarantees that this product doesn't need much water, detergent and energy to be completely washed and available again to the customers. It is not surprising that its presence in wellness centres and other similar businesses is becoming increasingly common, to save costs for the owners and to satisfy customers.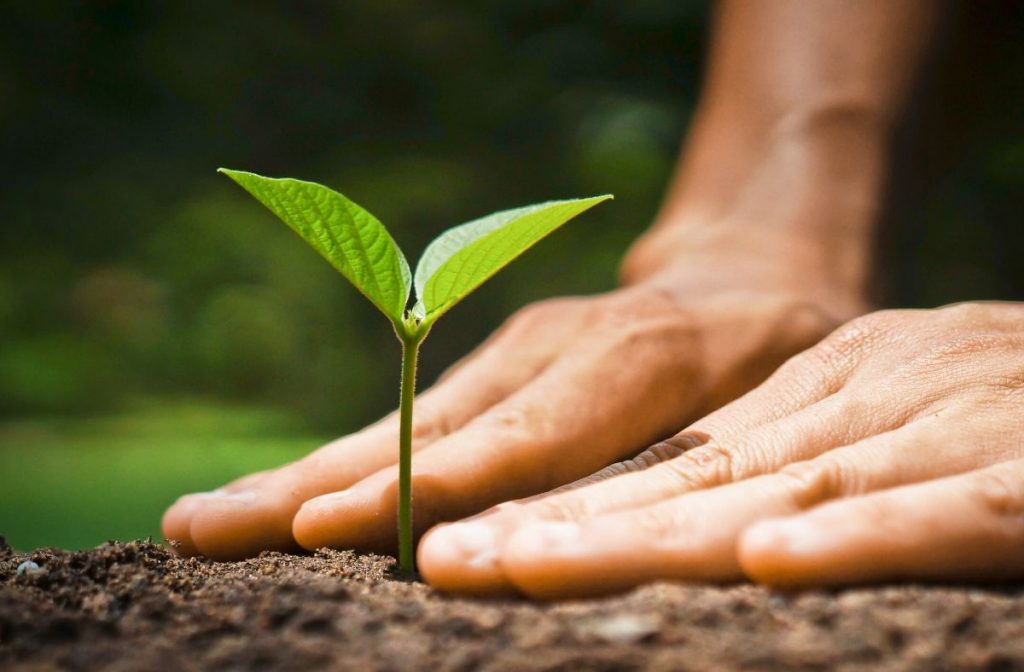 Find out more about eco-friendly bathrobes and their advantages on the Tucantex website.